Portland Bicycle Accident Lawyers
Portland is a city that embraces bicycling. The growing network of almost four hundred miles of bike lanes, including multi-use paths that make it easier for people to get to their destinations on bikes, and one hundred miles of low-stress neighborhood greenways, make the city a bicyclist's paradise.
Unfortunately, even the most aware and careful cyclists cannot completely avoid an accident when they share the road with drivers who can be negligent. On average, 750 cyclists are involved in motor vehicle accidents in Oregon each year, and nearly 130,000 bicyclists are injured in the U.S. annually. Despite Portland and the greater Portland metro area being very bicycle-friendly, a cyclist is still at risk of life-altering and even catastrophic injuries when sharing the road with motorists.
Oregon ranks second among the bike-friendliest states in the country. Portland, along with other Oregon cities continue to invest in its bike infrastructure to protect its cyclists by providing them with safer alternatives, especially in heavily congested areas, so that a simple city bike ride downtown doesn't result in a life-changing injury.
If you were injured while cycling due to the negligence of another person or entity, please contact a Portland bicycle attorney at Bridge City Law as soon as possible.
At Bridge City Law, our attorneys are committed to taking care of your legal needs and ensuring that you're treated fairly, so you can take care of what's most important — regaining your health.
Wrongful Death Claims
In some cases, this type of accident may result in a fatality. The surviving family members of the decedent may be eligible to file a wrongful death claim or lawsuit against the negligent motorist and receive compensation for funeral expenses, loss of companionship, medical expenses, and more.
Personal Injury Claims and Lawsuits
If you were injured in a bicycle accident due to a negligent driver, a personal injury attorney at Bridge City Law can help you file an insurance claim to ensure you are treated fairly.
Our experienced attorneys will ensure you are able to see medical providers to help you recover from your injuries and take the stress off your shoulders of dealing with the insurance companies.
While the vast majority of cases settle without filing a lawsuit, if an insurance company refuses to make a fair settlement offer, we will be prepared to file a personal injury lawsuit on your behalf and present your case in front of a judge and jury. In many cases, an insurance company will be more willing to negotiate a fair settlement once they learn the person who was injured in an accident has a legal team protecting them and advising them on their claim and is prepared to pursue a fair award in court.
No charge Consultation
Contact us today and together we can figure out how we can be of service to you.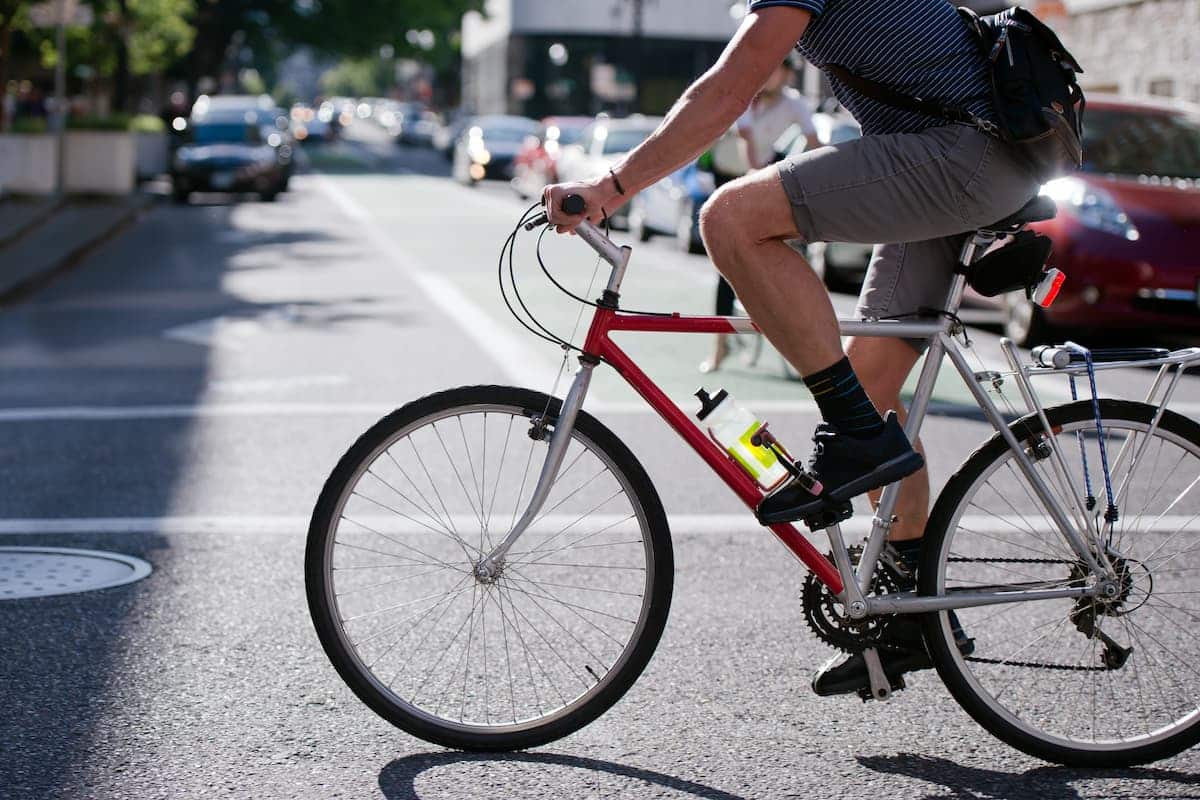 WE ARE AVAILABLE FOR VIDEO CONFERENCE CALLS
When You've Been Injured:
We Are Available To You 24/7
There is NO FEE OR OBLIGATION for An Initial Consultation
You Don't Pay a Fee Until We Successfully Settle Your Case
We Are Experienced, Skilled, Responsive And Have Handled Thousands Of Cases
We Take A Compassionate Approach To Personal Injury Law
We Know How To Negotiate To Maximize Results
Our skilled and caring personal injury attorneys have experience representing people who have been injured in bicycle accidents in the following Portland metro area cities and throughout the state of Oregon:
WHY BICYCLE ACCIDENTS ARE MORE DANGEROUS
If a cyclist is involved in an accident, they don't have much protection from the road or the vehicle that strikes them. Passenger vehicles, SUVs, trucks, and commercial vehicles have many safety features, including airbags and seat belts.
Many bicyclists wear helmets, but even a helmet doesn't provide much protection from a vehicle that weighs thousands of pounds.
Since either side can be held liable in an accident, it's important to have a bicycle accident lawyer in Portland in your corner to advocate for you, explain your side of the story to the insurance company, and guide you through the personal injury claim process.
PROVING NEGLIGENCE
Determining negligence in a bicycle accident claim can be challenging for people who have been injured in an accident and who have no legal experience.
Consulting with an experienced Portland bicycle lawyer at Bridge City Law as soon as possible after a bicycle accident will help uncover what evidence is needed to prove a claim.
For example, if the motorist received a citation for the accident, the citation can be used as possible proof of driver negligence.
In some cases, proving negligence can be very challenging in a Bicycle Auto Accident Case. If both the cyclist and the motorist were turning at the same time and there was a collision, it can be difficult to determine which party was at fault. When you work with a personal injury lawyer, they thoroughly investigate the accident and work with experts to determine who was at fault.
At Bridge City Law, our firm has the experience, skills, and resources to conduct a thorough investigation of a Bicycle Auto Accident Claim and build a case that will prove the other party was negligent and should be held liable for your damages.
A bicycle accident involving a passenger vehicle often results in devastating injuries. While a bicycle helmet may offer some protection to a cyclist to reduce the chance of a traumatic brain injury or death, they do not protect the rest of the cyclist's body from catastrophic injuries.
If you were involved in a bicycle accident, you can bring a claim for your injuries and the following damages:
Pain and suffering
Past and future medical expenses
Lost wages
Loss of earning capacity
Loss of consortium
Property damage
Emotional distress
And more.
An Experienced Portland bike accident attorney can assist with calculating the total amount of damages you're entitled to claim as a result of your injuries and other damages. At Bridge City Law, we've seen firsthand the injuries that can result from a catastrophic bicycle accident involving a speeding passenger vehicle and know how important it is for a client to receive the compensation they deserve.
DO I NEED A BIKE ACCIDENT LAWYER?
Some accident victims may believe they don't need an attorney since the driver was clearly responsible for causing the accident. What the driver says to their insurance company does not always match what happened. Unfortunately, an injury claim is rarely straightforward, and complications can quickly arise. Many insurance companies that represent negligent drivers will quickly reach out to the injured cyclist and give them the opportunity to provide a recorded statement concerning the events that led up to the accident. You should never speak with an insurance adjuster without first contacting an attorney.
Insurance adjusters are not concerned with helping the people who have been injured in an accident recover the compensation they deserve. Their main goal is to get the person injured to unknowingly admit negligence in the accident to minimize payout or deny a claim outright.
Some insurance companies are quick to offer a lump-sum settlement to resolve a case, but these offers are often never enough to cover the cost of damages the accident victim has incurred as the result of the driver's negligence or recklessness.
A knowledgeable bike crash lawyer at Bridge City Law has your best interest in mind every step of the way. We know how difficult life can be following a serious accident. Our team of compassionate attorneys will always put you first. We want to make the claims process as easy on you as possible. This is why we take over all communications with insurance companies, to take the stress off your shoulders so that you can focus on getting better.
We know how difficult life can be following a serious accident.
Our team of compassionate attorneys will always put you first.
We want to make the claims process as easy on you as possible.
COMMON INJURIES
In Bicycle Accidents
A passenger vehicle is much heavier and bigger than a bicycle. Even a compact car can weigh around three thousand pounds. This significant weight difference between a passenger vehicle and a bicycle means that the cyclist is likely to sustain serious injuries in the event of a collision. Large SUVs can weigh up to six thousand pounds, which means they can strike with even greater force.
When a cyclist is struck by a motor vehicle, a catastrophic accident injury is very common. Some of the most common bicycle injuries an accident victim may sustain when struck by a motor vehicle can include those listed here.
Traumatic brain injuries/ brain damage/ head injury
Spinal cord damage
Neck injuries
Back injuries
Internal organ damage
Nerve damage
Knee injuries
Scarring and disfigurement
Broken bones
Sprains
Road rash
And more.
A severe bike accident injury can require months or years of ongoing medical care, rehabilitative therapy, and other accident-related expenses. A major injury that's life-altering may require ongoing medical treatment for the foreseeable future. Our legal team will negotiate with auto insurance companies to ensure a client receives a fair settlement for their injuries, including compensation for past and future medical costs.
When a cyclist is struck by a motor vehicle, a catastrophic accident injury is very common. Some of the most common bicycle injuries an accident victim may sustain when struck by a motor vehicle can include those listed here.
Traumatic brain injuries/ brain damage/ head injury
Spinal cord damage
Neck injuries
Back injuries
Internal organ damage
Nerve damage
Knee injuries
Scarring and disfigurement
Broken bones
Sprains
Road rash
And more.
WHY BICYCLE CRASHES OCCUR
When a bicycle accident involves a passenger vehicle, some of the most common causes of this type of crash include:
DISTRACTED DRIVING
This can involve a driver talking on the phone, texting, eating while driving, talking to a passenger in the vehicle, or adjusting the radio.
CAR DOOR OPENED
A driver or passenger opening a vehicle door without checking to see if a cyclist is approaching.
FAILING TO USE TURN SIGNAL
A driver may fail to use their turn signal when they're making a turn and turn right in front of a cyclist
TAILGATING
Following too closely behind a cyclist
TIGHT SPACES
A driver may fail to provide enough space on the road for the cyclist when passing, even though state law requires motorists to provide at least three feet of space.
SPEEDING
When a driver exceeds the safe speed limit, and a cyclist is not in the driver's immediate view, they may not be able to slow down quickly enough when they see the cyclist to avoid hitting them.
DRIVERS NOT YIELDING TO CYCLISTS
Failing to yield to cyclists when the cyclist has the right of way is another common cause for this type of serious accident.
DRIVERS NOT CHECKING FOR CYCLISTS
Many drivers fail to keep an eye out for cyclists on the road and do not check their blind spots or mirrors before they change lanes or merge, causing them to collide with a cyclist.
DRUNK DRIVING
Driving while intoxicated or under the influence of drugs or alcohol can lead to a devastating accident that can result in severe or fatal injuries
RECKLESS DRIVING
Reckless driving can also result in this type of devastating accident. An aggressive driver may not want to share the road with a cyclist. Their negligent and reckless behavior can cause a serious collision.
DEFECTIVE BICYCLE OR BIKE PARTS
Not all types of bicycle accidents will involve a passenger vehicle. Some accidents are isolated incidents. In these cases, a bicycle collision is not necessarily the fault of the cyclist or another driver. The manufacturer of a defective bicycle or defective bike part can be held liable if a faulty part, such as the brakes, is found to be defective.
FAULTY BIKE REPAIRS & MAINTENANCE
Faulty repairs can make a bike maintenance company liable for not properly maintaining the bicycle.
DANGEROUS CONDITIONS
Dangerous road conditions can also cause or contribute to this type of accident, in which case the local or state government may be held liable.
Contact us to Schedule a Call with
Our Personal Injury Lawyers at Bridge City Law
If you have been injured in a bicycle accident in Multnomah County or anywhere in the Portland Metro area, the experienced attorneys at Bridge City Law offer no-fee consultations and case evaluations.
During our first meeting with you, we will listen carefully to your story of the accident, explain your legal rights and options, discuss your concerns, and answer any questions you may have. We're here to help you navigate the complex personal injury claims process. We will give your case the time and attention it deserves. A bike crash lawyer from Bridge City Law will put your needs first and ensure we build a strong case that will help you receive the compensation you deserve for injuries, pain and suffering, and other losses.
Nestled in the breathtaking Pacific Northwest, the vibrant community of Portland, Oregon, is celebrated for its tapestry of welcoming neighborhoods, eclectic arts scene, culinary talent, innovative dining experiences, and outdoor adventures. Immerse yourself in the rich cultural heritage by exploring the iconic Powell's City of Books or visiting the renowned Portland Art Museum. Enjoy the many hidden gems at the neighborhood-centric food cart pods or indulge in the farm-to-table dining experiences. With its proximity to breathtaking natural wonders like Mount Hood, the Columbia River Gorge, and the nearby Oregon Coast, outdoor enthusiasts will find endless opportunities for hiking, biking, and kayaking.
Unsure if You Have a Case?
Contact us for a NO FEE Case Evaluation
"*" indicates required fields