I love to make the law a non-intimidating process that works for my clients.
My focus is on helping them navigate a complex system, so they can make a full and speedy recovery.
Jim Dwyer | Why I Practice Law
Jim Dwyer Portland Personal Injury Lawyer
It's hard to believe that I've been practicing law for over 30 years. I love being a lawyer more than ever. I'm continuing to learn how to be a better attorney and I never tire of helping people navigate a legal system where the insurance companies are looking out for themselves, not the injured person.
Making the law a non-intimidating process that works for my clients brings me both personal and professional meaning. It's about how I take care of my clients. I do everything I can to help them have a full and speedy recovery. I make sure their medical bills and wage loss are paid. I do everything I can to ensure my clients are treated by the providers of their choice. I focus on creating a relationship with my clients where they can trust me and know their wellbeing is of utmost importance.
I am relationship driven. I value relationships for what I can learn from and give to them. My relationship with each client is important to me.
I provide the same personal service I would want if I hired an attorney. I return my clients' calls promptly. I take the time to make sure I really answered their questions. When my clients leave my office, or we're finished with a phone call, I make sure I've given meaningful answers and information.
When I was in law school, I interned for an extremely smart attorney. After we'd meet with his clients, they would often call and ask me to explain what their attorney had said. That was a major learning experience for me. Being a smart attorney is not enough. I need to be equally good at answering questions and providing information that makes sense to my clients — something we're not taught in law school.
I am fortunate to work with Dean, Roy, and Pat. We are a team. We talk about cases, changes in the law, how to help solve our clients' issues and concerns on a daily basis. We strive to help each other do the best possible work for our clients. Being part of a dedicated team is wonderfully rewarding.
I take care of my client's legal hassles so they can focus on their health, family, and work.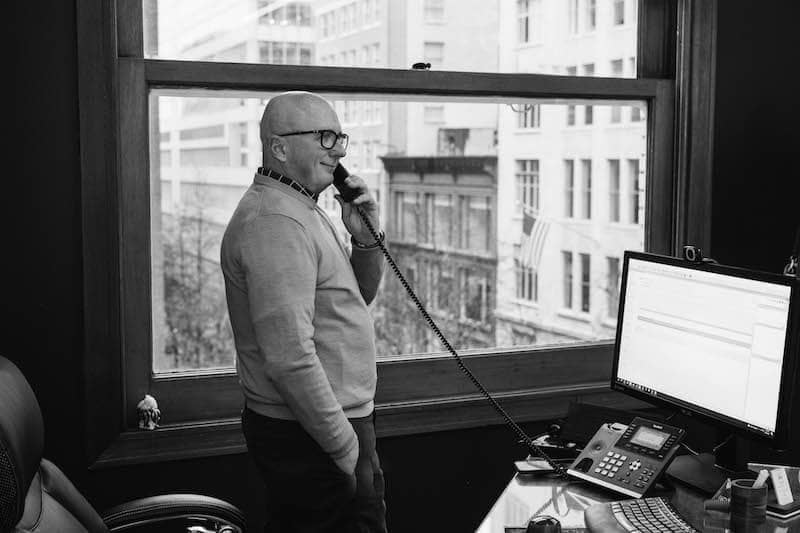 Jim is dedicated to helping his clients navigate a complex legal system, so they can focus on what is most important — making a full and speedy recovery.
Jim's first job was at his father's law firm when he was in the 6th grade. He delivered legal documents to be filed at the courthouse, took mail to the post office, and made deposits to the bank. He did this all on the 10-speed bike he bought with the money he earned from working at his father's firm.
In high school, Jim's dad took him to legal seminars where's his dad was often a speaker. He'd talk with Jim about his cases and trials – Jim often watched his dad in court. He always stressed the importance that the client comes first and all the steps an attorney can take to make sure that happens.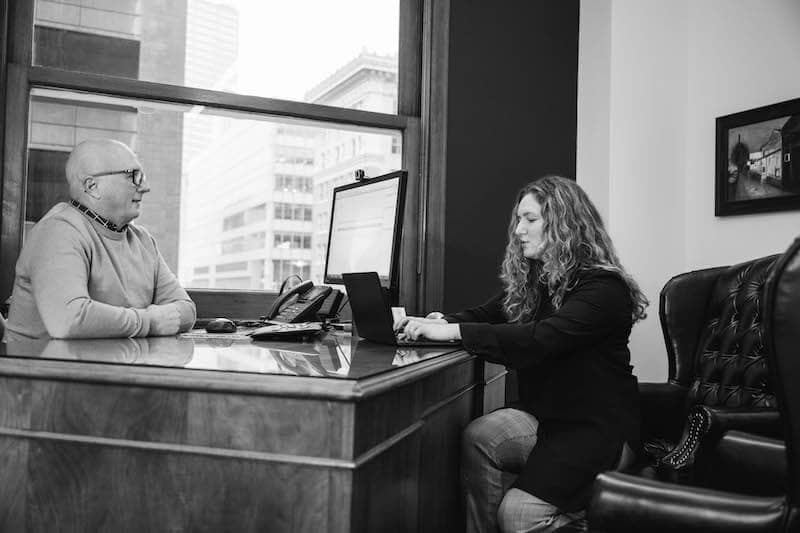 Jim graduated from law school in 1987 and started practicing with his father in 1988 in Eugene, Oregon. He took care of clients injured in cars, on motorcycles, on bikes, as pedestrians, and in stores.
Jim married his wife, Jan, in 1990. His first daughter, Caitlyn, was born in 1993 and his youngest daughter, Adair, was born in 1995.
In 1998, Jim and his family moved to Portland so his wife could help take care of her mother, who had Parkinson's. Jim and his partner Dean have been working together since 1998.
Jim enjoys cooking — Paella is his signature dish, which he often prepares for non-profit events to help raise money for their organizations. He loves to travel with his wife. His two daughters are now in their mid 20's. They both live in Portland and can often be found with their friends having dinner with Jim and his wife.
In 2015, Jim wrote and published a book for men called The Caged Truth. It looks at how men's relationship with their significant other, children, parents and work are powerful forces that not only bring out the best in them in being an equally positive force for those they love and care for.
Jim also has a website called Tipping-the-Scales.com, where he writes a blog to help attorneys find greater meaning in the practice of law through how they take care of their legal team, clients and family.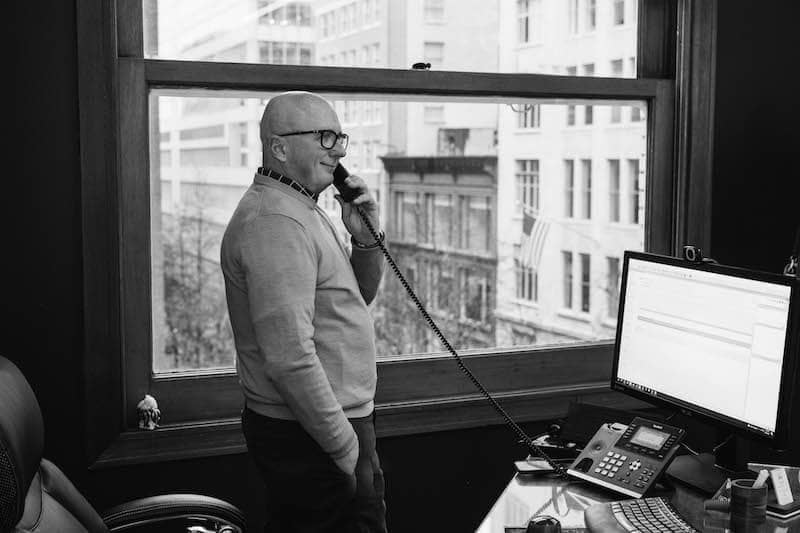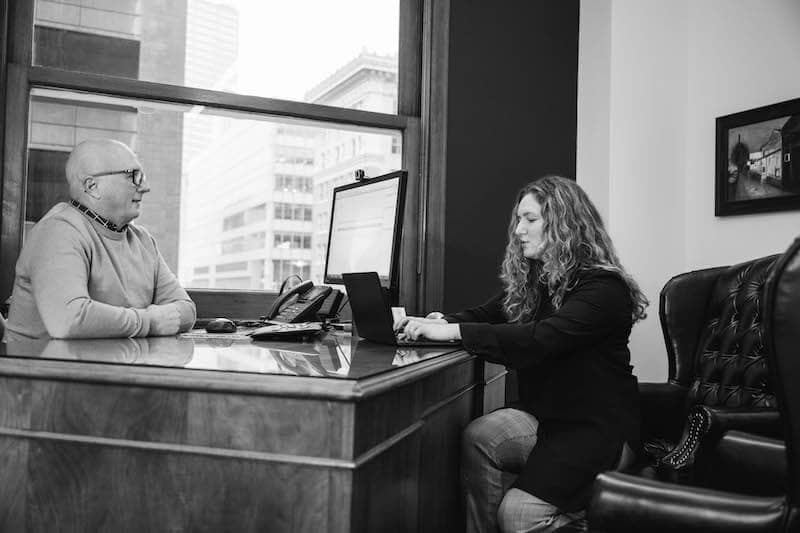 Savannah has been working with me since September of 2017. She is smart and a quick learner. Savannah has compassion and knowledge far beyond her years. Is there anything that makes sense to add about the three of you working together as a team?
Working as a team makes all the difference in the world. Not only does it allow our clients to have the best experience possible, it makes work a more gratifying place to be.
Savannah helps make sure the insurance companies are doing just what they should do for you.
Jim is licensed to practice law in Oregon, Washington, and in the U.S. District Court for the District of Oregon.
Jim is a member of the Oregon Trial Lawyers Association, the American Association for Justice, Multnomah Bar Association and the Oregon State Bar.
He has been awarded Volunteer of the Year for by the Oregon Trial Lawyers Association and is also a member of the Board of Directors for the Commons Law Center, a Portland-based organization providing affordable legal services to income-qualified people in Oregon.
A Caring, Knowledgeable, and Helpful Lawyer
"Jim helped me tremendously after an auto accident this past year, and turned the experience into a smooth and timely process. The combination of his expertise and honest care makes Jim an excellent lawyer, who gives trustworthy advice and attentive support to his clients. We are lucky to have such a great lawyer in Portland!"
~PHOEBE
We'll help you determine whether you have a case and if you need an attorney. It doesn't make sense to hire a lawyer if you don't need one.
Do I Have a Case?
No Charge Consultation